Today we meet with a self-professed villain. Most of our heroes try to do good but Fuma's motivations may not be so altruistic.
Hi how are you, today Fuma? Can you start by giving us your user name and the servers you play on?

Good day, Jagan! I'm doing well, all things considered. Sorry I was late to this interview. I had to escape some kidnappers first. It was terrible. They had me in handcuffs in the back of their car with funny red and blue lights on the top. I'm ok now though. You wouldn't happen to have a lock pick, would you? No? Dang it. To answer your question, most know me as Fuma Hanzo, but I have a nearly unlimited supply of aliases. I have a couple stunt doubles on US1 and US3, but they're mainly there so no one steals my identity. You can never have enough precautions these days, when it comes to identity theft. Mostly though, I make my home in US2.
Well, we are delighted you made it to the interview this morning
!
Thank you. Me too. They said they were going to throw me in a cell and throw away the key
.
Lucky for us that did not happen! Would you like to talk a bit about yourself? Your life when you are not working as a superhero slash villain?
Sure! I always like to talk about myself. I'm narcissistic like that. Well, when I'm not out committing crimes, I like reading books and writing. Mostly my studies revolve around world religious beliefs and cultures, but I also enjoy science and psychology. When I'm not doing that, I play a lot of poker and strategy games.
I also own a moving company, but it's really just a front to launder my illegally acquired funds.
Uh oh! So tell us how did you start playing Hero Zero?
Well, I was originally in another world that was destroyed by Evil Aliens. I was sailing through the black void of space when I heard a beacon from some of the other refugees from my old planet. Originally, I tried to ignore it, but then more and more beacons kept coming in over the computer's systems and eventually, after a couple months of trying to ignore them, I realized they wouldn't stop until I finally answered the call. So I headed to this new planet that my computers listed as US2. After checking it out for a bit, I realized my fellow refugees were right and this was a suitable planet for us to make our new home. So voila! Here I've been ever since.
Do you have any stories to tell of your first days Humphreydale?
Well, I was just looking around one day and suddenly this guy in bad clown makeup started making trouble for all the citizens. Ordinarily, I wouldn't have bothered, but I noticed he was holding a big bag of coins. So I socked him in the jaw. He just stood there laughing at me, so I kept hitting him. That's when I noticed I wasn't the only one. Everyone in the neighborhood seemed to be hitting him. There was this one guy who was hitting him more than everyone else, but he just wasn't going down. Several times he shoved me to the ground, but I kept getting back up. After the last time, I hit him with a trash can lid and he finally went down for the count. It was crazy, but his belt fell off and landed right in my hands along with the bag full of coins. It was Ironic, actually. That was the 1st time I had ever fought a villain on this world. Usually I am the villain. Since then, I've discovered villains are a regular nuisance in these parts.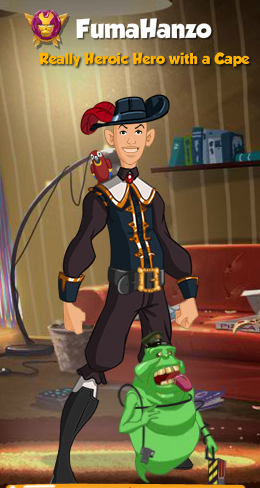 Do you have particular goals you would like to achieve in the game?
Well, currently I lead Villains Inc. and what we've accomplished already has been pretty amazing. But as far as future goals are concerned, we'd like to take down Yoyodyne Corp. and replace them with Villains Inc. as the dominant criminal empire in Humphreydale. After that, we'll make our move to take over the world. MUHAHAHAHAHAHA!!!!
In your opinion, what is your greatest achievement in HZ so far?
Aside from catching the Moderating Bandit in the forums and acquiring her stockpile of toilet paper? I'd have to say showing players that they don't have to join a top team in order to be in one. My team, Villains Inc, started a good 9 months or more after the server had started. Most of the top teams were well established already and had a virtual lock on the top spots. Like all new, fledgling teams, we started from the bottom. (Now the whole team's here.) It may seem like a daunting task to compete with the big boys when you first start out, but now we're the 2nd strongest team on our server and the 1st in honor. I hope we can stand as an example to other new players and teams that all it takes is a dedicated and loyal group of players working together to make the impossible possible.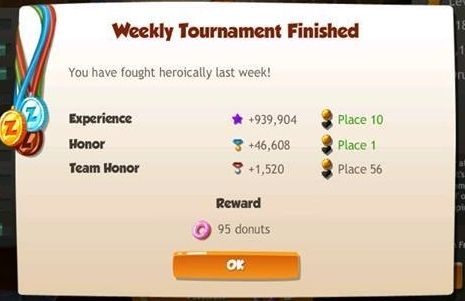 Certainly a worthy goal. And along those lines, are there any tips you would give a beginner?
Don't rub your eyes while eating hot wings? Don't put the shampoo in the same vicinity as your wife's Nair? Oh wait........... You mean to become stronger, don't you? My bad. I think the best thing someone can do is find every way possible to gather coins. Coin is king. And forget about index. A lot of folks seem to think that the stronger your toon is per level, the better they are doing. So I see heroes not levelling and only doing training in order to make their index higher. All this does is limit your growth. I'm not saying level as fast as you can. Coin is still king. But here, power is all that matters. It doesn't matter if your index is 1 million if that guy who started after you and and has an index of 100 is so much higher level than you that you're losing to him anyway. There's a lot to be gained in levelling. Aside from the free sp gained in the process, gear for higher levels can make a huge difference. I remember when I used the Hammer of Amnesia, my stats were minimal. Many lower levels were able to take me down easy. But all I had to do was have my missiles equipped for missions and lower level players who attacked me while I did missions would fall to one hit, my missiles were that powerful compared to them. There's a lot of misconceptions in this game that a lot of folks fall victim to. Index is one of the biggest.
EDIT* A lot of folks seem to think that the stronger their toon is per level, the better they are doing.
Are there any players that you particularly admire or opponents that you respect?
There are two women on my team, ErmaEmpath and MankoNakadashi that I respect highly. These two women do so much to help the team succeed and rarely take any credit or or recognition. I like to call Erma our team mom and Manko our Pepper Potts. Those two do so much to help keep things running smoothly and organized. But several of our teammates are truly worthy players. Nater, Strykz and IMG are all solid players who make up the backbone of our team. Outside of our team, I really like Chinaal and Photographer. They're both great fun. I recommend either of their teams to aspiring heroes with a rough edge.
Being one of the top players on the server and certainly, arguably the most strategic, what would you say is the secret to your success?
Other than my debonair charm and undeniable good looks? I'm modest too, by the way. The secret to my success is my team. I get a lot of credit, but the truth is, I'm just 1 of 30 people. If anything, I'm just the head cheerleader. The key is getting a team to work together and enjoy being there. They have to root for each other's successes as if those successes were their own. They have to all have a vested interest in each other's success. There's nothing like watching the whole team come together to help just one of them achieve a victory in the honor tourney or reach a heroic deed. And when they see this happen, and know that same backing is there for each and every one of them, they will all pull together to make it happen for one another. Very recently, I made first place 3 out of 4 weeks in a row in the honor tourney. Without my team and my allies, there's no way I could have accomplished such a feat.
And now for the question I always ask at the end of the interview- what is your favourite word? No swearing!
My favorite word? Hmm. That's a tough one. There's so many. Pirate, Booty, Rogue, Villain, Ninja, Toilet Paper........... But I guess if I could only pick one, then it would have to be Freedom.
That concludes our interview and I thank you for taking time away from your busy schedule of villainy to be here
.
Any time. I'm always happy to help, especially if it means helping myself to your coin purse. Well, since we're done here, I guess I'll be going. If you see two men in matching blue uniforms asking questions about me, I was NEVER here. You don't know me and have NEVER seen me before. Thanks!