Currently there are 39 Hideout Rooms, in this Tutorial we will discuss what each room is good for and how best to utilize it.
The Brokeridge Center

The Exchange Room

The Lab of Infinite Knowledge

The Sports Bar

Fighting Bot Improvement Unit

Robot Warehouse

Defense Post

Defense o bots

Room 42.0 Beta

Hero Forge

The Gym

Attack o Bot

Scouts Center

Cybernetic Research

Private Fight Club

Trophy Room

Modification room

Generators

Zeronite and Superglue

HideOut Base

Each Room is important in some way to your game play. As stated in previous turorial you will need superglue and zeronite to upgrade them.
A easy way to know if a room can be upgraded is to look for the green arrow in the bottom right corner.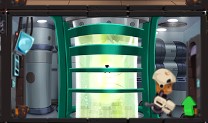 once you establish it can be upgraded simply click on the room and it will tell you the requirements and time it will take to upgrade.