Hello, Heroes! It is HZ "woman in the trenches", Jagan with today's Garage interview.
Today it is my great privilege to interview a great player and dear friend. You may not know him but he has been quietly developing his chops in game, and his quiet unassuming manner has won him respect on the team and in the game.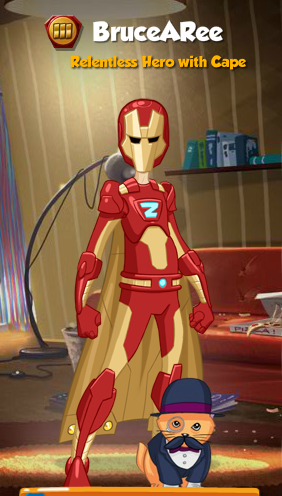 Hi, how are you, Bruce? Can you give us your username and the servers where you are playing?
Hi, I'm BruceARee and I play on US2 I'm doing great
Do you want to talk a little bit about yourself, about your life when you are not working as a hero?
I like to create leaded stained glass art and enjoy watching videos on YouTube. The classic rock music or something funny like Dean Martin Roasts
.
Very cool!
When did you start to play Hero Zero?
I started playing around 7/5/2014 and I haven't missed a day yet
.
This next question I already know the answer to, but I will ask you anyway for the benefit of our readers: How did you start playing Hero Zero? -Through friends? Publicity?
Hehe...I had a great friend invite me to be on her team and check out this new Hero Zero game and we have been causing...Uhm...Chaos ever since,
He He, *Blush* Do you still remember the first days as a "noob" in Hero Zero?
My first days of HZ were filled with learning where everything was and trying to figure out the best way to make a strong toon. It was a fun learning experience watching and learning from more experienced players and adapting a better way to build my character.
The key is not to move or level too fast
What do you like most about the game?
I like having great teammates to share jokes and music with and helping folks build better toons
Do you have particular goals to achieve in the game?
I am very close to completing the 100 mil shopping frenzy deed, when I complete that my goal is to get my stats to all 6k
That is awesome! I am such a spendthrift myself.
In your opinion, what do you feel is your greatest achievement in the game?
mmmm...well probably having perfect attendance...finding a way to be there for everyone on the team.
Both of those things are worthy. Do you have a favourite SuperHero?
There are so many its hard to pick just one..Its between Wolverine and The Hulk...but I think I will have to go with The Wolverine...He keeps kicking butt but is a real softy to his friends...
Over time, you have become one of the master strategists at Chaos Rulez, do you enjoy planning out the battles for the Team?
I do enjoy planning battles. Its a real challenge to find a way to beat a better team and with the addition of the league battles the challenge has ever increased. Its all good fun.
What tips would you give a beginner?
The main tips to beginners are to do the training and missions everyday and if they have a villain get in on beating it. The extra missions and training will help you grow stronger...save up a good bank before you buy a ton of skill points because they get costly quick.
Is there any player you look up to and admire? If so who is it and why?
There are a lot of great players in this game to look up to current and past...Dogmeat was a great toon that I used to race against while building but there are guys like KKJN and his teammates that are outstanding and Players like Hanzo that do an awesome job at team building.
Who do you believe are the best players based entirely on ability?
There are quite a few to choose from but our own Trix, Funk and ATN are awesome skilled players. Also, Hanzo is great with strategies as well as Chinaal
.
What enemy do you respect the most? -Team and or player?
The Drunken Degenerates have been a great rival team...They have a really great team of players but I wouldn't call anyone an enemy.
Thank you for taking the time out of your busy day to talk to us here. And a final question (straight from the "Actor's Studio" Script -what is your favourite word? (No Cursing!)
no cursing? I guess dookie is out...lol..so I'll go with Chaos
Any further advice for our readers?
Yeah, everyone play the league if you want to keep up or your team will fall behind but mostly have fun and make friends.
BruceARee has finished in the top 10 for XP and honour three times each and has made top 3 in honour once.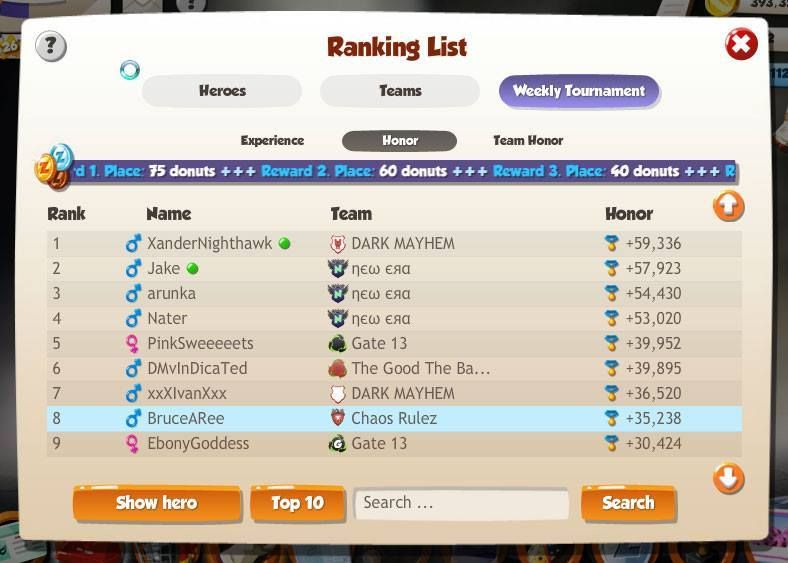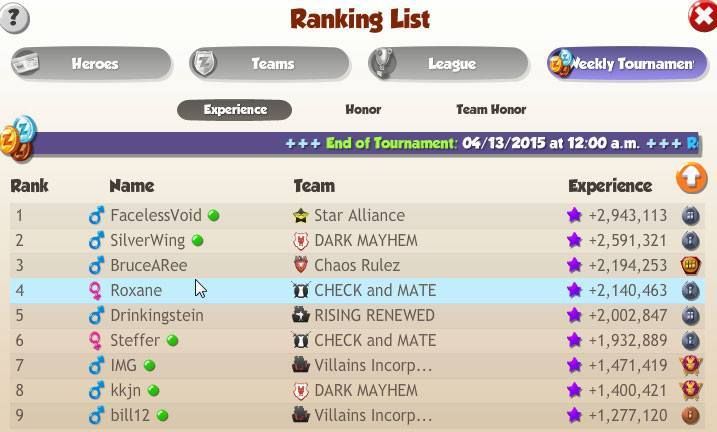 And a big thank you once again to Bruce for taking the time out of his busy day to meet with us. This is Hero Zero correspondent Jagan signing out!